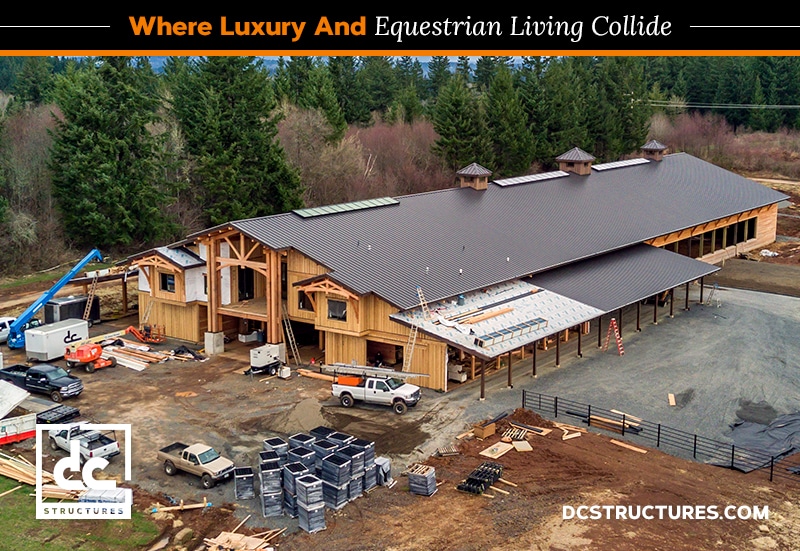 At any given time, DC Structures has a number of projects under construction across the U.S. These range from residential homes and apartment barns to large-scale commercial operations such as athletic centers and event spaces. Once in a blue moon, we get a unique and rare opportunity to blur the lines a bit by designing and building a massive residential complex.
Currently, DC Structures is collaborating with its parent company DC Builders to finish construction on a custom mega-facility that consists of a barn with upstairs living quarters attached to a covered riding arena. It is our largest residential project to date, and it dwarfs several of our prior commercial structures.
Nestled on a large, scenic footprint in Oregon City, Oregon, this sizable hybrid structure measures a whopping 276' x 138'. The covered riding arena is a DC Structures Prairie 90', replete with the whole gamut of equestrian necessities. The sprawling indoor-outdoor facility provides ample space for year-round riding, with 90' x 204' of space to roam rain or shine.
Attached to the arena is a custom barn with sweeping upstairs living quarters, which was designed by DC Builders. The main level consists of six horse stalls, a feeding aisle, grooming, wash and grain stalls, powder and viewing rooms, as well as additional hay, bedding and equipment storage. In short, anything and everything you could possibly need to pursue your equestrian lifestyle.
The elegant upstairs home is a spectacle in its own right, boasting 4,635 sq. ft. of luxurious living quarters. A 344 sq. ft. deck overlooks the property, while a 430 sq. ft. viewing area gives spectators access to the arena. Four bedrooms, three bathrooms and sizable bonus room are complemented by a huge open-concept living, dining and kitchen space. Practical features include large laundry and pantry rooms, and a storage room that is accessible from the viewing platform.
[cme_grid post_id="7474″]
DC Structures is proud to be involved in bringing our clients' dream buildings to life. We'd love to turn your plans for the future into concrete and wooden reality! Request our digital catalog to get started today!