Farmhouse homes have long been a staple of American history, with some of the earliest-known farmhouses dating all the way back to the 1700s and 1800s. Though farmhouses first appeared as simple, single-story rural homes for farm workers and their families, this iconic home style has since evolved to encompass all the comforts we associated with a traditional countryside home while boasting modern amenities designed for today's homeowners. 
At DC Structures, we've designed our farmhouse home kits to include many of the classic Americana elements that make this home style feel close to its farming roots, like covered porches, gable dormers, and board and batten siding, while offering modern finishes and clean lines that bring these homes into the 21st century. Built with concealed clear-span trusses, these farmhouse home designs feature wide-open interiors with vaulted ceilings that allow you to do anything you wish with virtually any space in your home.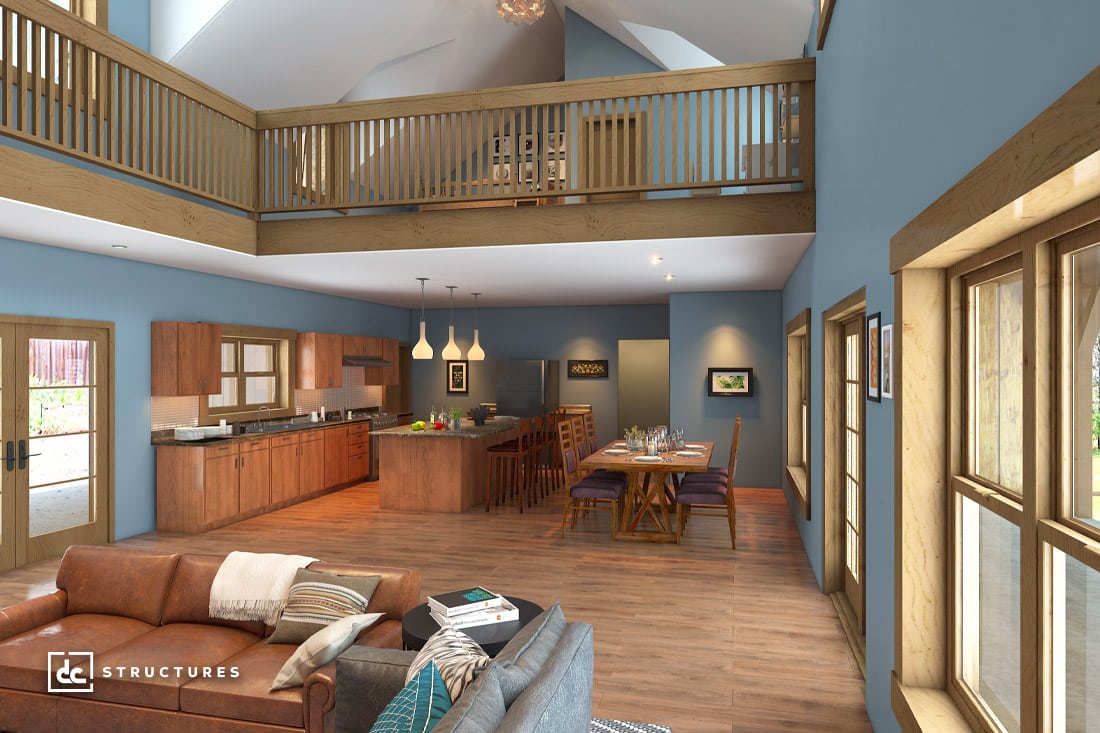 If you're interested in building a homey yet sophisticated farmhouse home on your property, keep reading below to see why you should consider our Applegate and Juniper pre-engineered farmhouse home kits for your upcoming residential project: 
Applegate Farmhouse Home Kit
The Applegate Farmhouse Home Kit is a four-bedroom, three-bathroom home with tons of natural charm, warmth, and utility. This pre-engineered building model offers 3,123 sq. ft. of conditioned living space that includes an open-concept living, dining, and kitchen space with a walk-in pantry, two bedrooms (including a generous primary bedroom suite), two bathrooms, and a mudroom and laundry on the first floor; and two bedrooms, a shared bathroom, and a spacious storage room on the second floor.
A 257 sq. ft. covered porch outside the main entrance gives this home a distinct countryside feel, while modern features like Andersen windows and patio doors accentuate the contemporary nature of this design. Clients who choose this model can also utilize an attached 1,121 sq. ft. two-car garage for vehicle and equipment storage or as a personalized workshop space. Our sample floor plans come with open-ended layouts that you can easily tailor to suit your lifestyle needs. We also offer endless modification options that allow you to remove, add, or change any design elements to more closely resemble your vision.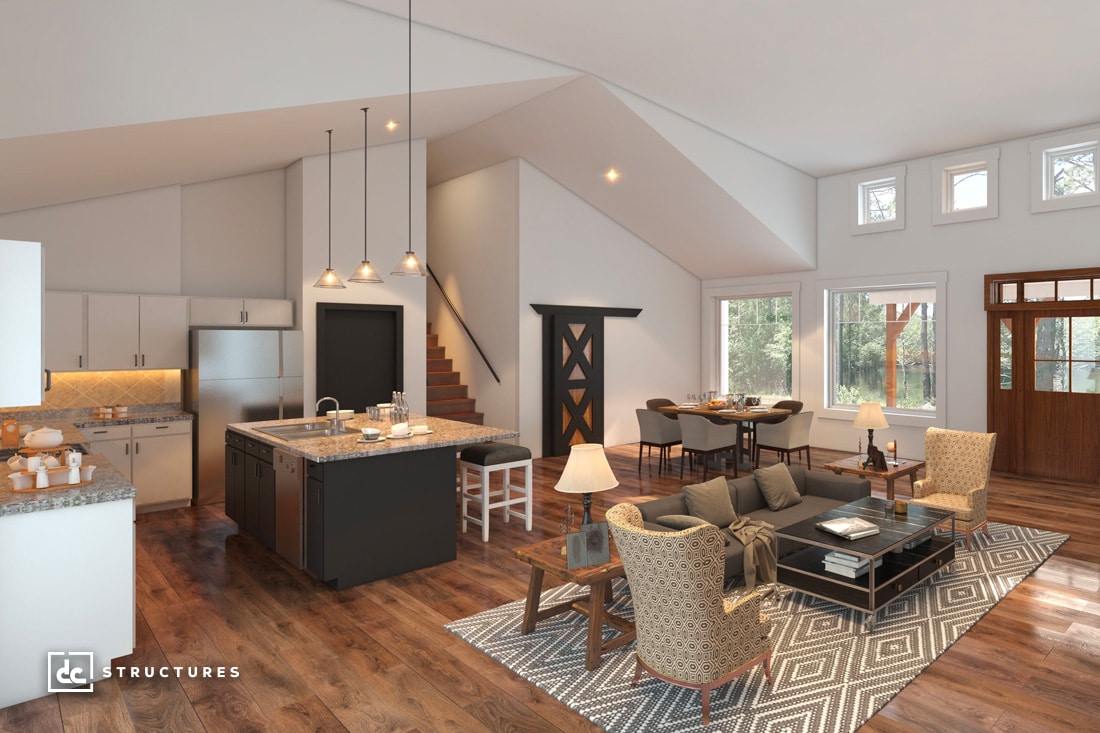 Want to learn more about the Applegate? Click here to view the Applegate kit page for more pricing, materials, and sizing details. 
Juniper Farmhouse Home Kit
Our Juniper Farmhouse Home Kit offers a more traditional appearance for your new home, with gable dormers, pitched gable roofs, and covered porches contributing to its timeless appeal. Inside, you'll find an open-concept living, dining, and kitchen area with a walk-in pantry on the first floor. To the left of the kitchen and dining room are two bedrooms, a bathroom, and a mudroom and laundry area. On the opposite wing, a primary bedroom suite and a spacious 210 sq. ft. study offer the ideal set-up for parents, business owners, and creative professionals.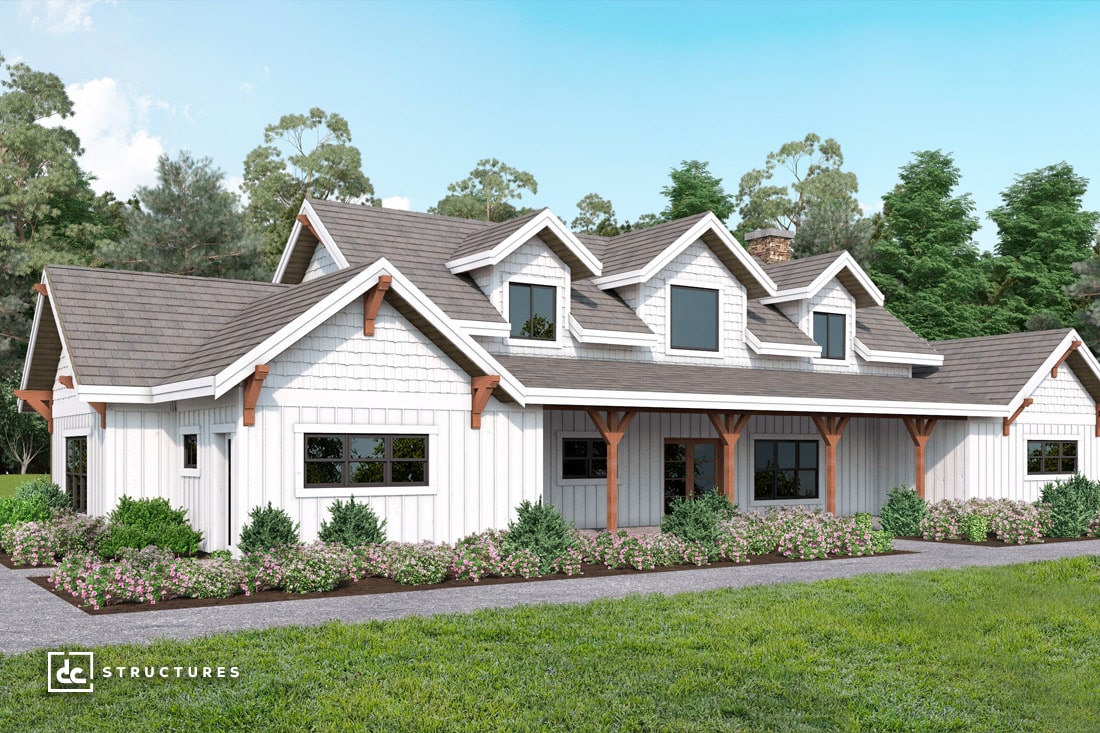 Upstairs, a loft area with a full bathroom overlooks the great room below. This space can function as an office, gym area, music studio, or anything else you can envision. Unlike the Applegate, our Juniper Farmhouse Kit doesn't include an attached garage space as part of the standard design and materials package. However, clients can work with our designers to add a garage to their model or create even a separate garage or workshop space on their property.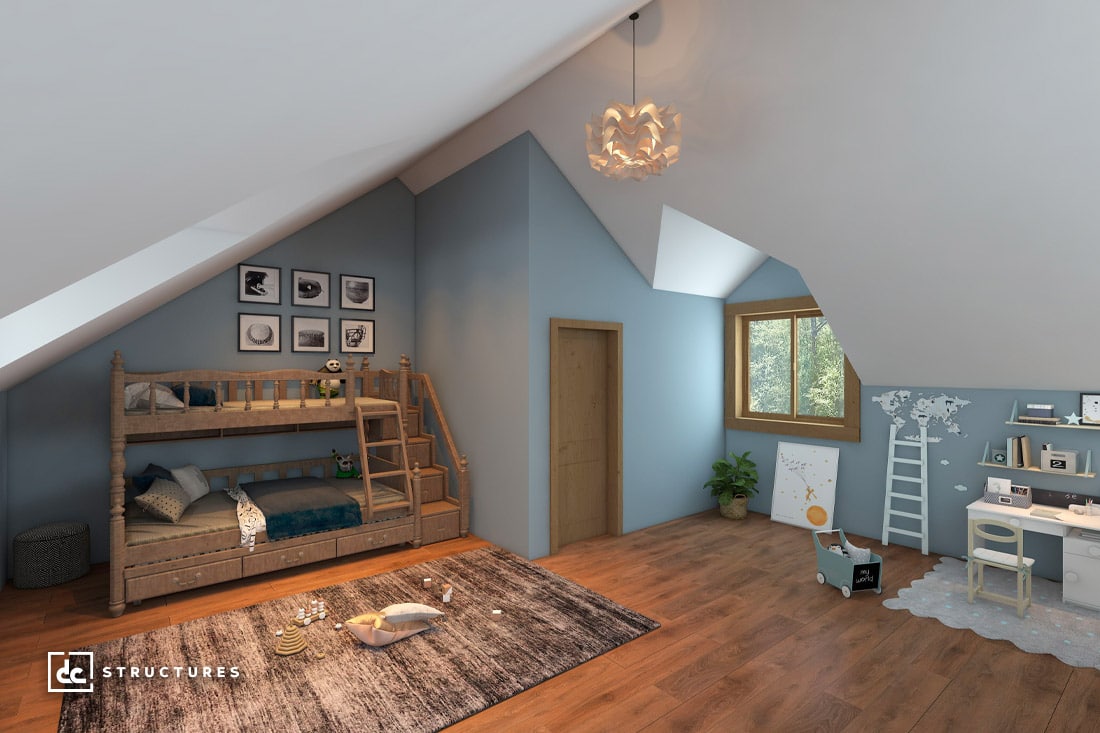 Want to learn more about the Juniper? Click here to view the Juniper kit page for more pricing, materials, and sizing details. 
Interested in owning a farmhouse home like the Applegate or Juniper? Call today at (888) 975-2057 or request a quote here to speak with one of our representatives about your unique vision.