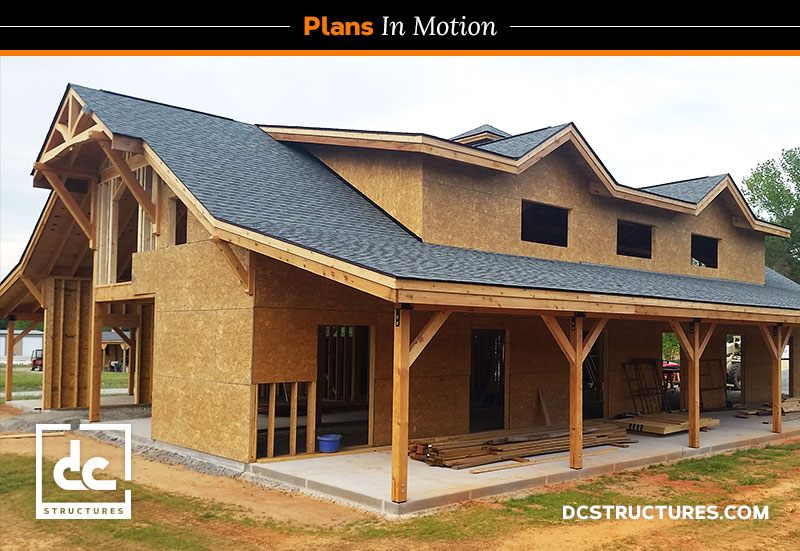 Oregon-based DC Structures partners with clients across the U.S., turning unique visions into pre-engineered materials packages. From apartment barns and barn-style homes to wineries and wedding and event venues, DC has several projects under construction at any given time.
Relationship building is the backbone of our operation, which is why DC Structures provides builder support to your chosen contractor throughout the duration of your build. We keep in contact with our customers long after the plans and materials package have been shipped—and even after construction is complete just to make sure you absolutely love your finished structure.
Learn more about our process here!
North Carolina Horse Barn in the Making
This past fall, construction finished for our client's Tryon, North Carolina horse barn. Modified from a Columbia 72' horse barn kit, this barn with caretaker's quarters and upstairs viewing loft is an equestrian enthusiast's dream.
The ground floor boasts eight horse stalls, a double-size tack room, a wash bay, and a full bathroom with shower and laundry. Upstairs, a 72' center-aisle loft with heavy timber framing and fir tongue-and-groove decking offers a wonderful vantage point to check up on the horses.
The horse stalls are complemented by Classic Equine Legend Series stall fronts, and include such necessary amenities as stall dividers, rubber stall mats and chew protection. Black powder-coated steel-framed Dutch doors enhance the aesthetic, while also meeting DC Structures' high standards for barn animal safety.
Additional upgrades to this Columbia horse barn kit include custom 12' timber trusses, powder-coated breezeway doors with windows, and a steel-framed hayloft door. Natural lighting is optimized by the windows of two Nantucket shed dormers, as well as those of the iconic cupola.
[cme_grid post_id="6427″]
Stay tuned for photos of the finished project this spring!
Thinking about a horse barn for your own property? Request our digital catalog to learn more about our top-quality post-and-beam barn kits.