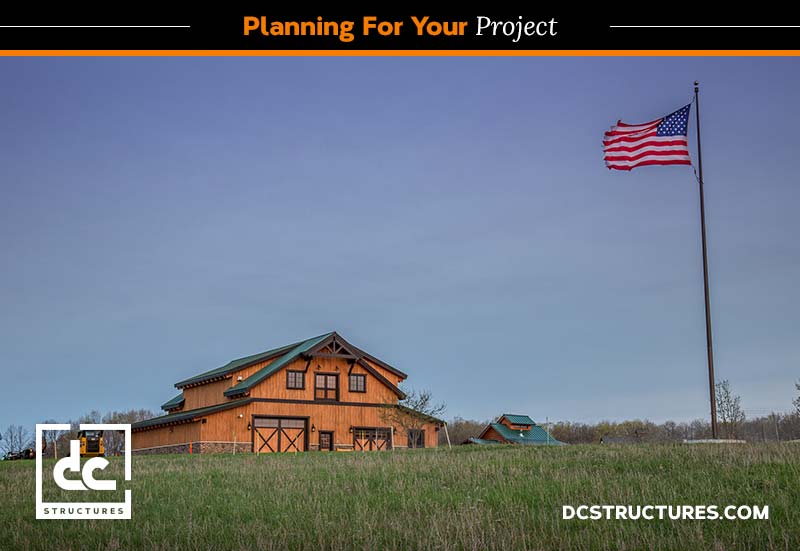 There are plenty of reasons to be exhausted by a construction projects, and one of the biggest of those headaches relates to project feasibility. As you begin your design, planning and construction process, it's important to consider how things like zoning, building on protected lands and other new construction requirements may affect your project. With a little research and the right questions you can make sure you don't end up putting the cart in front of the horse.
The first thing to consider is the kind of structure you want to build on your property. Depending on the size and intended use, there are hoops you may have to jump through with zoning and permit requirements. Will the structure be multi-functional and contain a living unit like this Shasta RV barn? If so, you will want to check with your county's land use office for regulations on building new or additional residential units on your property. You may discover there are special permits you need to request and get approved before you start the building process.
The size of the structure you want to build on your property is also a point of distinction. It's much easier to build a small structure on undeveloped property than it is to build an entire riding arena, like this impressive Canyon kit in Oregon City. If your property is still untamed or limited in use then you may want to consider a smaller more practical structure, like this Pendelton Shed Row barn. Its compact design is flexible and works well for any property.
Rural property owners should consider obstacles that come from building on undeveloped land. Keep in mind that building on undeveloped land requires you to plan out sewage, water and electrical solutions for your structure. You should also make sure the topography of your land lends itself to construction. Poor soil and rugged terrain can affect the foundation of your home over the long term and should be avoided. Other times there may be protected lands—such as wetlands or riparian zones—that can't be built on. These problems can throw a serious wrench in any plans you have, so make sure you address them ahead of time.
The best way to avoid issues that may arise from building on your land is to be informed, and to work with experienced builders. Contacting your local planning commission will usually yield answers to any questions about zoning and protected lands, but it's more difficult to find an experienced builder that you can trust. Nothing will provide more peace of mind than working with a contractor who has experience in the region you are looking to build.
DC Structures has worked with contractors both in-house and through outside partnerships to complete projects that span developed and undeveloped land, as well as those on rural properties and within city limits. You can trust DC Structures to get the job done right. Request a quote and start planning a dream home for your property today.