THE 
Legacy
A Perfect Venue for Any Special Occasion
The Legacy is an all-inclusive event venue with an elegant design inspired by some of the best wedding barns we've been involved with. This wedding and event barn kit comes with all the amenities a bride and groom could want, including bride's and groom's quarters, a catering kitchen, and a massive main hall with a classic raised center aisle. Exterior upgrades like heavy timber roofing, windowed cupolas, and a grand covered entryway add a sophisticated touch that is sure to leave a lasting impression on guests and newlyweds alike.
Built in the reliable method of post and beam construction, this stunning structure is framed with the finest heavy timbers from the Pacific Northwest. These heavy timbers allow for dramatic interiors with vaulted ceilings inside the ceremony and reception area, while Andersen windows allow plenty of natural light to pour through the main hall. Depending on your vision, you can easily modify the existing blueprint to meet your individual needs. Our available options and upgrades make it possible for you to personalize your event barn kit according to your vision for the space.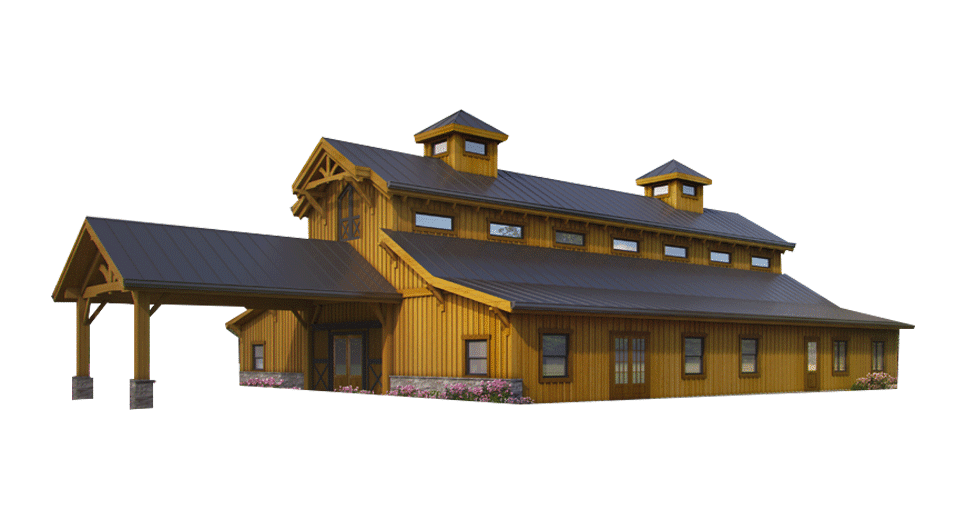 Legacy
Specifications
This package is pre-engineered and builder-ready.
7/12 Roof Pitch
2 Jumbo Cupolas
40 Andersen Windows
Heavy Timber Truss
Cedar Siding & Trim
24′ x 30′ Portico
Legacy

Floor Plan

This design can be modified to accommodate your needs.
Floor Plan Details
Fully Equipped Event Venue.
This example floor plan illustrates the complete amenities included in the Legacy wedding barn kit. From bride's and groom's quarters to a catering kitchen to ample room for guests, this venue is worthy of the promise of forever.
Additional resources include:
Build support from real builders
All hardware necessary for assembly
Site-specific structural engineered blueprints
We're in the business of turning your ideas into concrete plans.
See how we've helped our customers achieve their goals.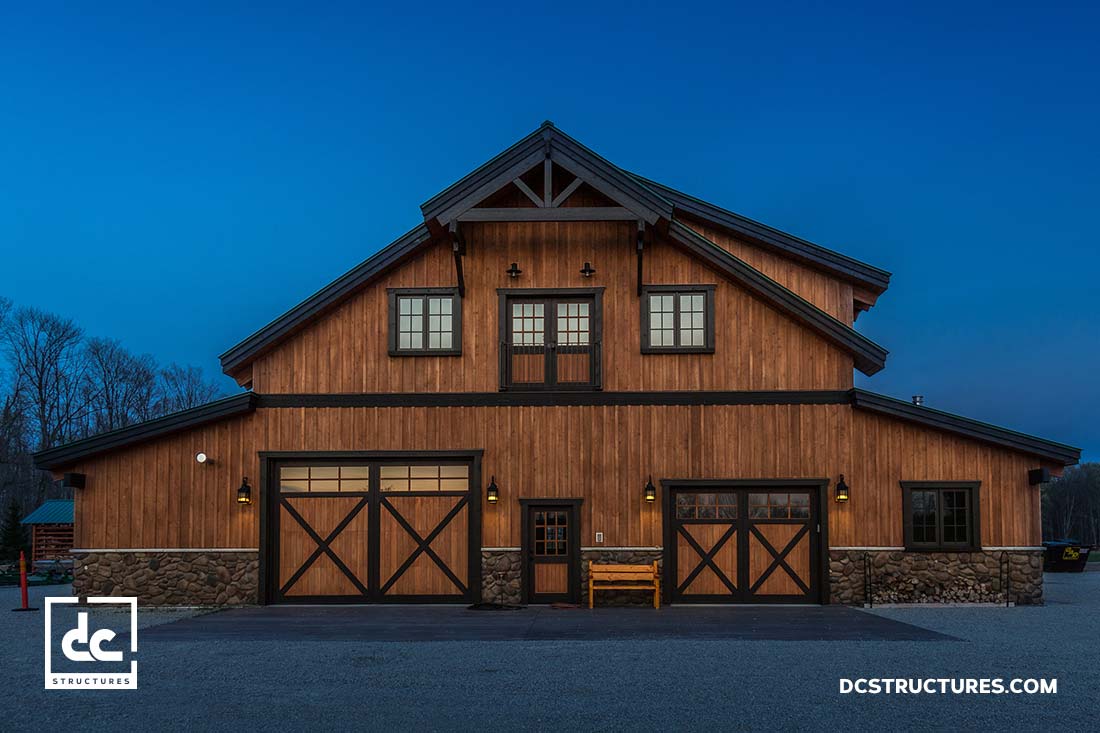 Daggett, MI
This cabin-style workshop with living quarters was adapted from an Oakridge apartment barn kit. With ample space for equipment storage and a cozy living space replete with wet bar and game room, this functional structure is a great home base during hunting season.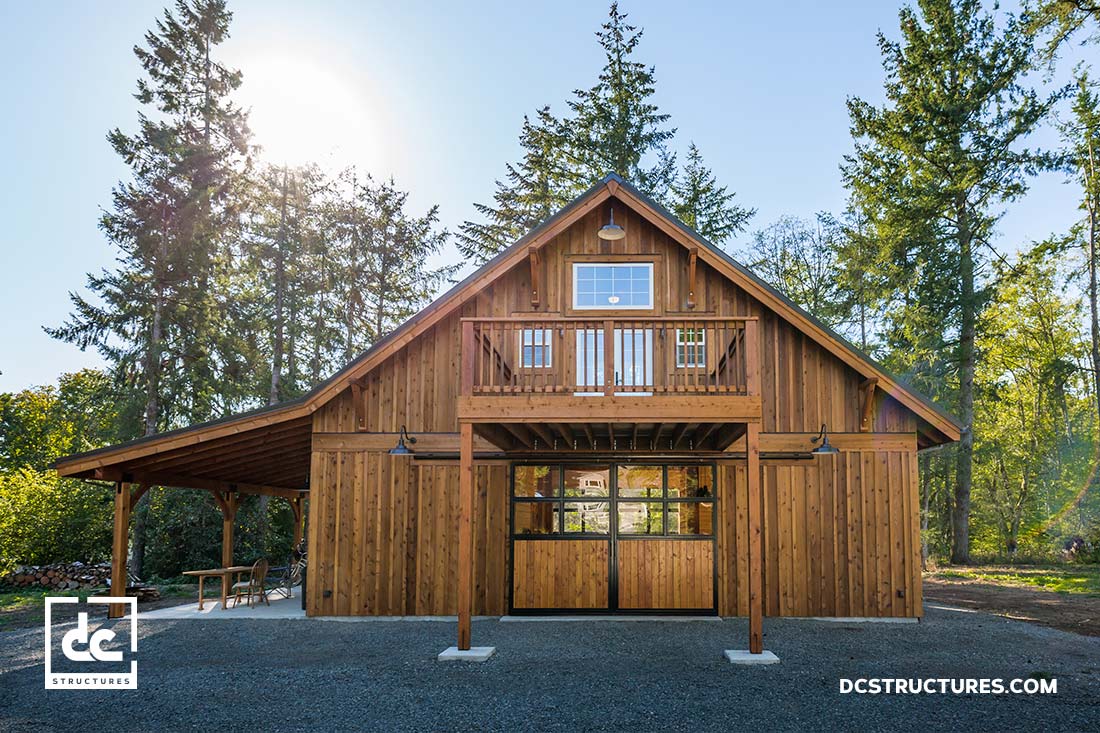 Damascus, OR
This backyard party barn boasts a workshop, mudroom and storage for work, and a custom bar, sweeping deck and upstairs loft for play. Traditional timber frame stairs add a touch of rustic elegance to this modified Columbia barn kit.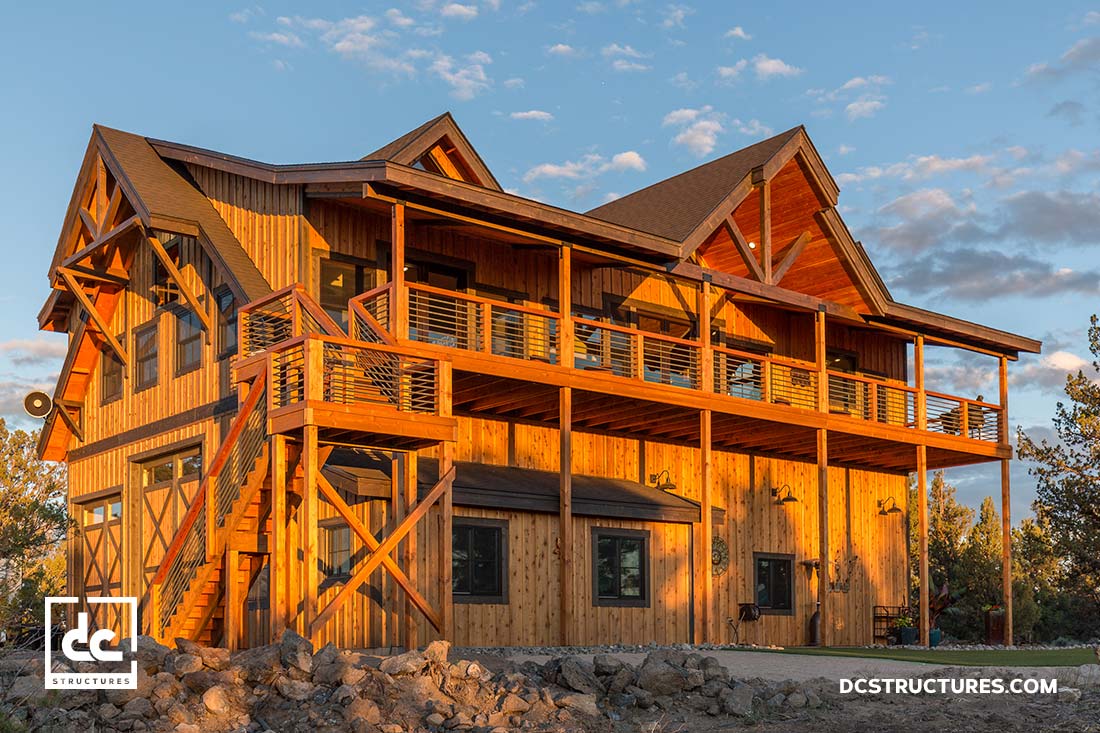 Bend, OR
This large, three-door garage with upstairs living quarters is an elegant and functional space. Starting from an Oakridge kit design, this modified home boasts a stunning open-concept kitchen, living and dining area, as well as a sweeping covered deck.