OKLAHOMA
Timber Frame Homes
Oklahoma Timber Frame Home Designs
OKLAHOMA TIMBER FRAME SOLUTIONS
Custom Timber Frame Home Kits in Oklahoma
DC Structures is widely recognized as America's leader in pre-engineered post and beam and timber frame building kits. Headquartered in the Pacific Northwest, we source the finest mill-direct lumber for our timber frame home designs to provide our clients with exceptionally durable structures that retain their strength and beauty over time. Our team regularly works with clients in Oklahoma to create custom timber frame homes tailored to their needs, budget, and design ideas. Whether you're looking for a modern timber frame home or something more traditional, our team will help you craft a timber frame residence that perfectly aligns with your vision.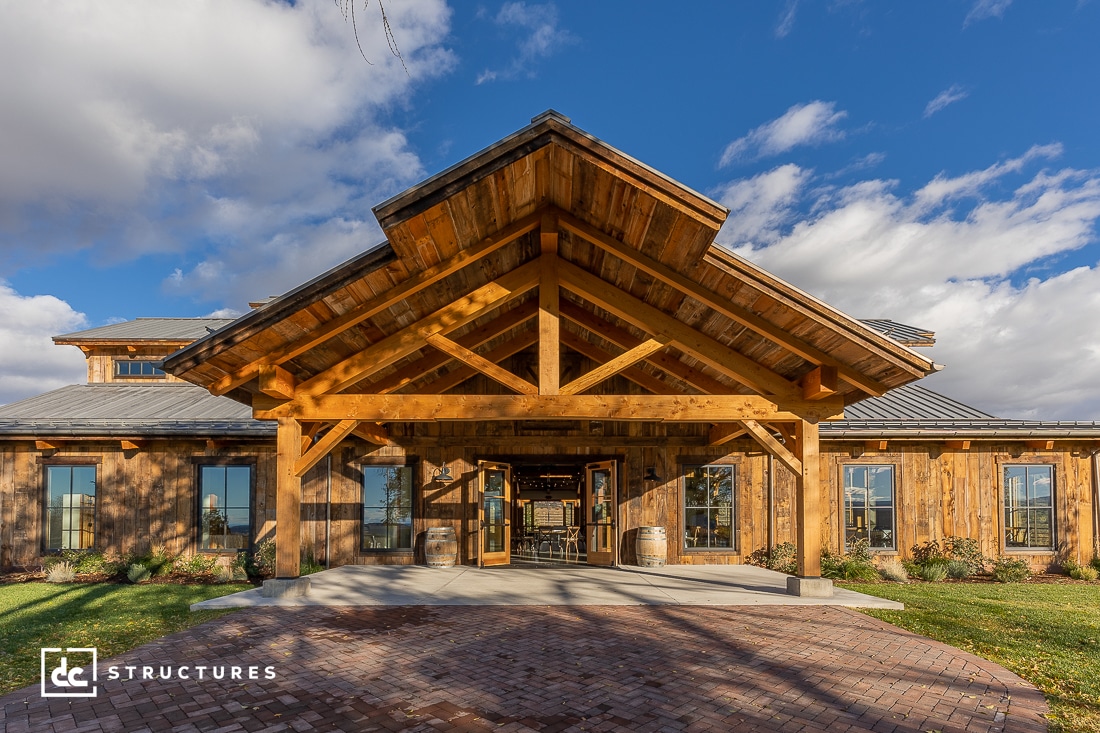 FEATURED OKLAHOMA

Timber Frame Projects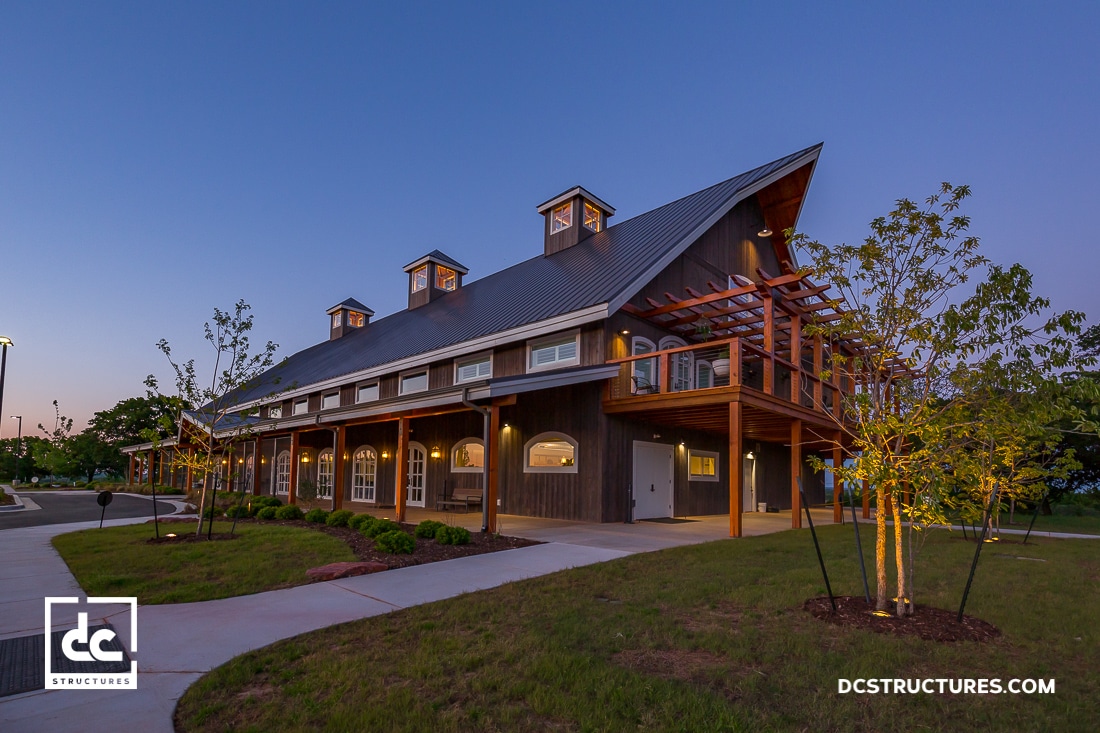 Designed by the in-house design team at DC Structures, this custom wedding venue is one of three structures we crafted for our clients in Stillwater, Oklahoma, including a barn-style office and custom pavilion. Coming in at 9,919 square feet, this enormous barn-style venue features a 5,760 sq. ft. main hall, bridal and groom suites with private decks, a catering kitchen, and massive heavy timber trusses throughout.
This barn-style structure in Stillwater, Oklahoma is the namesake of our Stillwater Barn Home Kit. This custom project serves as the site of our clients' event business and includes a small kitchen, a loft area, and a great room with an expansive window wall.
This custom 15' x 15' king post pavilion kit is the perfect place for outdoor ceremonies. Unlike our standard king post pavilions, this one is designed with four gables instead of the original two and topped with a barn-style cupola.

WHY PARTNER
with DC Structures?
DC Structures is far more than your average building kit company — we're a dedicated team of expert designers, project coordinators, and craftsmen working in tandem to bring your vision to life. From the moment we partner together to move-in day, we make it our goal to deliver a timber frame structure unrivaled in quality, precision, and beauty and an exceptional client experience you'll love from start to finish.

Our process starts with our versatile line of pre-engineered building kits — all of which are designed to be completely modifiable to your needs. With the help of our designers, you'll have the ability to transform your model into the perfect structure for its purpose and customize your design with hundreds of our premium material selections. Throughout the process, our team makes it a point to ensure your satisfaction at every stage. By utilizing industry-leading technologies, we're able to communicate important updates instantly and efficiently with every client, no matter where they are in the world. With thousands of possibilities for your design, high-quality materials to choose from, and a world-class team supporting you every step of the way, you're guaranteed to love your experience with DC Structures.
WHY BUILD A TIMBER FRAME HOME

In Oklahoma?
Timber frame homes are commonly revered for their dramatic exposed beam interiors and open floor plans, but there are plenty of benefits to building timber frame structures aside from their aesthetic appeal. For instance, timber frame homes offer superior durability in comparison to conventionally-framed homes – a result that's owed to the use of large heavy timbers over dimensional lumber to create the structural frame. This makes timber frame homes a natural choice for clients located in severe storm and tornado-prone areas like Oklahoma, as timber frame homes can withstand extreme weather conditions better than most homes built today.
Timber frame homes are also inherently energy-efficient structures, considering wood is a naturally insulating building material. This makes it possible for clients to save hundreds in energy bills every month, especially during the winter season. Additionally, our clients can enjoy major savings on their timber frame home investments as a byproduct of our hybrid framing method. Our use of traditional timber framing in combination with conventional framing methods allows our exposed heavy timbers to shine in areas of your home designed for entertaining, including your great room, kitchen, and master suite, while reducing costs in less frequented spaces.
REQUEST A FREE DIGITAL CATALOG
---
Start planning the building of your dreams with the latest DC Structures product catalog, containing loads of information on pricing, materials, options and upgrades, photos, videos and more.
WHERE IN OKLAHOMA DO WE SHIP OUR TIMBER FRAMES?
Our pre-engineered timber frame home kits can be shipped anywhere in Oklahoma, regardless of whether you live near Oklahoma City or somewhere in the remote countryside. Here's where we commonly ship our pre-engineered timber frame home kits within the state of Oklahoma:
Oklahoma City
Tulsa
Norman
Broken Arrow
Edmond
Lawton
Moore
Midwest City