CUSTOM KIT Designs
Custom doesn't get easier than this.
DC Structures boasts a diverse selection of post-and-beam building kits that can be easily adapted for your intended use. We are proud to offer several avenues to get you to the pre-engineered materials package of your dreams, including our standard kit process and our flex design option. But for the client looking for a building kit that is truly unique, we also offer custom kit design services.
Our custom design option was created for clients who love the simplicity of the building kit process, but can't find what they're looking for in our standard models. In order to bring your vision to life, our design team will work closely with you to create your one-of-a-kind building kit. Once the design is complete, the rest of the steps are simple–we'll prepare your materials package for delivery and construction!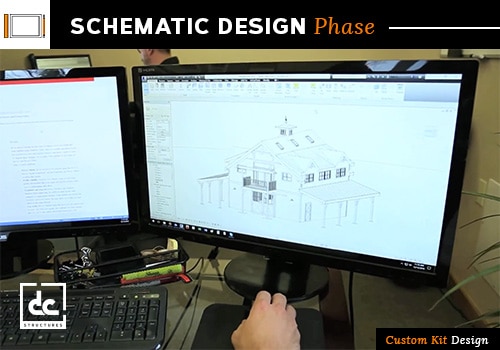 1. SCHEMATIC DESIGN Phase
The schematic design phase is where we'll get your thoughts on paper, create your floor plan, and refine your vision into complete 3D renderings and plans. Here are the steps involved:

A. INITIAL DESIGN MEETING
First we'll introduce you to our design team so you can share photos, videos and design inspirations that will form the basis of your project. We'll get to know all the details about your intended build site and structural use. This can be done both in person and over the web using our live-meeting software.

B. FIRST DRAFT
This is where your vision begins to take shape. Our talented design team will work meticulously to create a preliminary draft of your project's plans and elevations, tailoring it to your requests from the initial design meeting.

C. DESIGN REVIEW MEETINGS
Once the first draft of your kit is complete, you'll have an opportunity to interact with the 3D model. Our design team will walk you through the plans to ensure accuracy while making note of any desired changes along the way. We'll also start dialing in custom options and specific material choices.

D. SCHEMATIC DESIGN COMPLETION
In the final step of the schematic design phase, designers will go back to your plans and implement all requested changes. Once the revisions are complete and you are satisfied with your plans, we'll finalize your design and move to the next phase.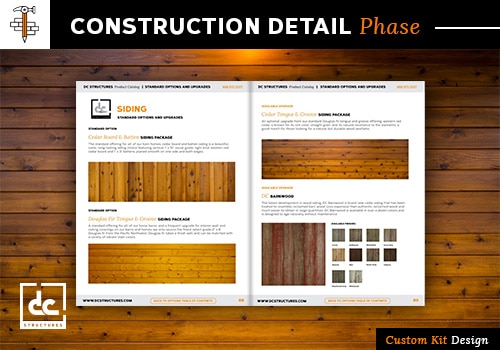 2. CONSTRUCTION DETAIL Phase
The construction detail phase is where your plans will be fortified with structural and mechanical engineering specifications. Here are the steps you'll take while working with our structural engineer:
A. CONSTRUCTION DOCUMENTS
The first step entails virtually constructing your building so construction details can be added to your plan sets. After that, the design team will collaborate with a structural engineer to create framing, foundation and load requirements.

B. INTERIOR FINISH SELECTIONS
Once the structural details are in place, we'll walk you through the plans room by room so you can solidify all your interior finish options. This includes your selections for flooring, fixtures and appliances.

C. MECHANICAL DETAILS
During the time our engineer works to finalize your structural details, we will also incorporate all mechanical, electrical and plumbing fixture locations into your plans.
D. ENGINEERING DETAILS
Once all the construction and mechanical details are incorporated into your plans, our structural engineer will stamp them so they can be sent to you along with complete calculations. The structure will be engineered with details that meet your local zoning requirements.

3. SCHEDULE Package Delivery
With the plans for your structure all set, our take-off team will then begin to analyze each material item that will be required for your package. This will allow our estimator to evaluate the final price while we get your kit ready to ship. Once complete, your materials package will be scheduled for delivery and shipped to your building site within a matter of weeks.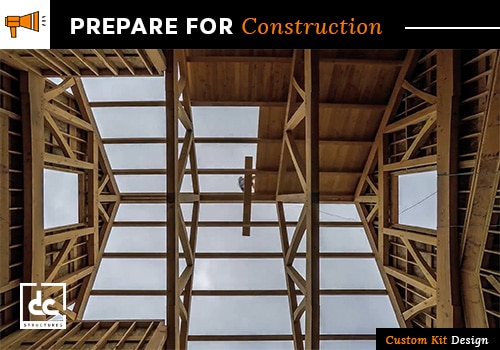 4. PREPARE FOR Construction
Work with a builder in your area to prepare your site for construction. If you need a contractor, we can tap into our network to help you connect with one—including our partner company DC Builders.