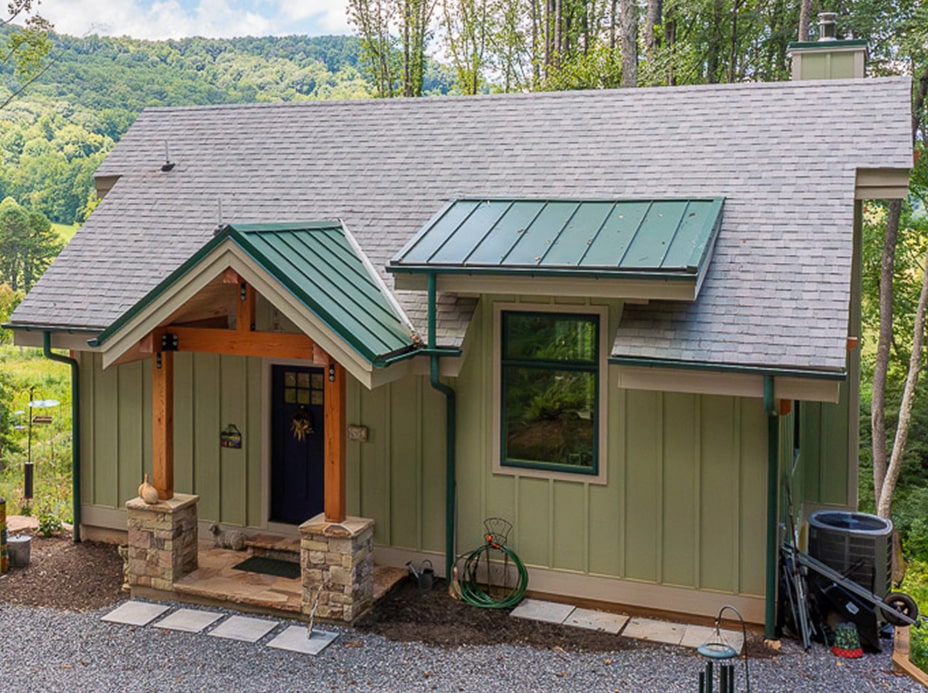 Project Summary:
---
Based on our McKenzie Cabin Kit, this adorable studio-sized structure in Arden, North Carolina, is truly something out of a storybook! From its sloped vantage point, this cabin design offers idyllic views of the surrounding property that our client can enjoy from their partially enclosed deck and back rooms.
Like our standard McKenzie, this cabin boasts a wide-open living, kitchen, and bedroom space with a private bathroom and laundry. Our client also included a 360 sq. ft. deck with a cozy enclosed area and a crawl space in their design to take full advantage of their cabin's hillside position. While similar in many ways to our McKenzie, this cabin provides a dynamic glimpse into our customization abilities and the abundance of possibilities awaiting one's building kit.
General Overview:
MCKENZIE CABIN KIT:
1,121 SQ. FT. Total
720 SQ. FT. Conditioned Living Space
360 SQ. FT. Deck
41 SQ. FT. Covered Entry
AMENITIES:
Modern Kitchen
Living Room
Studio Bedroom
Full Bathroom & Laundry
Partially Enclosed Deck
MODIFICATIONS:
Deck Addition
Crawl Space Addition
Rear Design Alteration
Enclosed Atrium
Custom Features:
This heavy timber cabin may feature minimal modifications on our part, but it certainly stands out with its warm design, cozy interior, and clever additions. One of the defining aspects of this cabin is its hillside location, which calls for detailed site planning and the inclusion of a crawl space foundation. To take full advantage of their views, our client added a rear deck with an atrium-style enclosure that allows them to enjoy their backroom any day of the year. Though many features of this cabin come directly from the client, including the siding, roofing, and ceiling material, we couldn't be happier with how the project turned out and the beautiful selections chosen for this build!