Something we pride ourselves on here at DC is the incredible versatility of our barn kits — not just in the sense of what you can do with your design, but what purpose they can ultimately serve on your property. From backyard party barns to wineries and even "bat caves," we've converted our building models into all types of structures for our clients and continue to surprise customers with the many unique configurations we can achieve.
Though it may be hard to visualize the possibilities for your barn kit at first, there are plenty of ways our team can help you create a one-of-a-kind structure that fully encompasses your needs and style. If you're eager to get started but feeling unsure of what you want to do with your building model, here's a glimpse at the numerous options available for your custom barn design. 
Barn Home
Let's say you love the look of our Oakridge Apartment Barn Kit but want it to function as a barn-style home for you and your family. With the help of our talented in-house designers, you can easily create a beautiful, long-lasting residence based on our Oakridge or any other barn design you see fit! We offer hundreds of customization options for your structure to ensure your barn home matches your personality and taste. We can also combine multiple building kits to create an all-encompassing residence that meets your every need. 
Barndominium
Barndominiums are all the rage with millennials, and it's not hard to see why. With their classic barn-style appearance and multi-use layouts, barndominiums make attractive and efficient structures that can serve several unique purposes on your property. It's important to note that many barndominiums on the market are metal-built structures, whereas we frame ours with select grade FOHC Douglas fir heavy timbers. Before investing in a barndominium, consider what type of barndominium you're looking for in terms of material use, style, and function.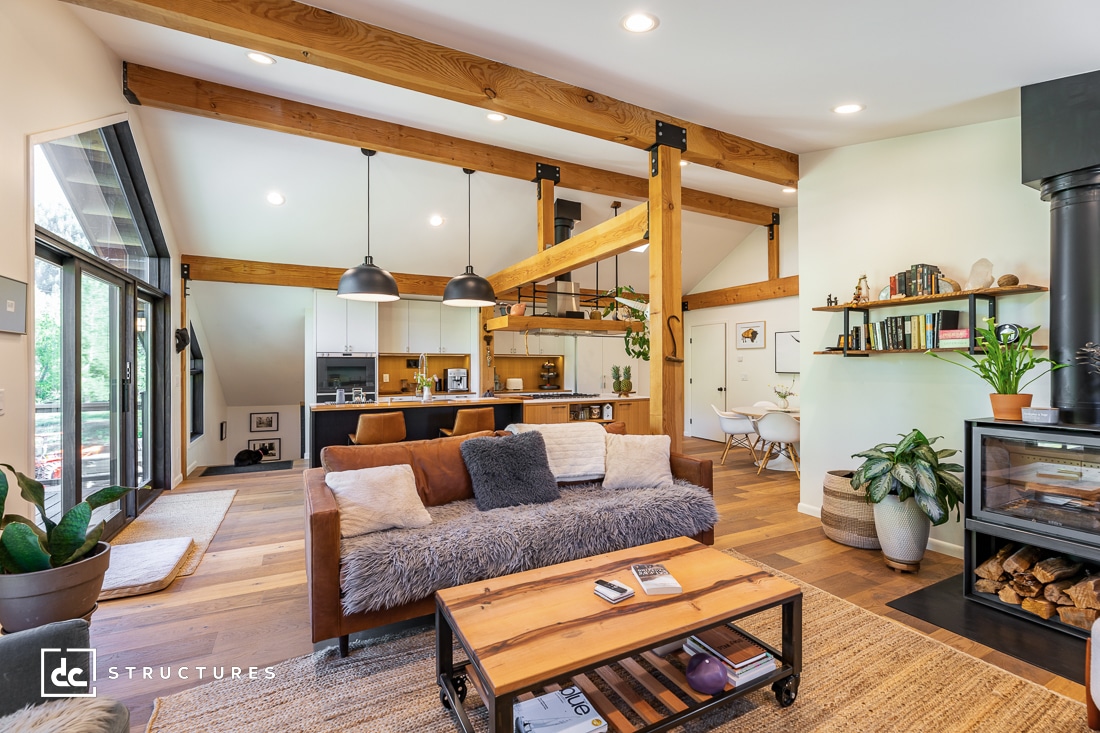 Event Venue 
Whether you're planning to build an all-inclusive wedding and event venue or a simple gathering space for small parties and celebrations, we offer dozens of pre-engineered barn kits designed to suit your needs. While most of our wedding and event venue projects started as event barn kits, we've transformed several of our other barn designs into breathtaking event venues that our clients and their customers love. 
Hobby Workshop 
Any hobbyist knows how important it is to have your own personalized workspace. With a prefabricated barn kit from DC Structures, you can turn your design into a fully built-out workshop tailored to your needs and passions. We offer a complete line of garage and workshop kits designed for the modern tinkerer or creative professional. However, we can take any barn kit in our collection and transform it into your ideal workspace. 
Vehicle & Outdoor Equipment Storage  
While many homeowners store their vehicles and outdoor equipment in their garages, others may find that their existing garage doesn't provide adequate room for all their storage needs. In these instances, having a detached storage barn or garage makes a practical solution that will increase the value of your home and keep your prized possessions safe and secure. 
Winery/Brewery 
Have a vision for a winery or brewery in your state? We want to hear it! At DC Structures, we've designed a handful of wineries for clients in Oregon and Washington and would love the opportunity to expand our portfolio of DC-designed wineries and breweries. Our team has also transformed our barn kits into stunning distilleries for clients nationwide and could help you create a production space and tasting room that aligns with your business plans. No matter the complexities of your build, we're here to help you get your ideas off the ground in any way we can. 
Church 
Worship centers come in all different shapes, sizes, and styles, from massive gothic cathedrals to quaint gable-roofed chapels. While we've designed a few religious centers in our signature post and beam style, we can transform any of our barn kits into an original worship space that more closely matches your vision. 
Man or Lady Cave 
Who doesn't love having a personal space to retreat to from time to time? With a detached man or lady cave on your property, you can enjoy some much-needed self-care in a relaxing atmosphere that's all your own. Whether you envision a sports-themed den or something like our client's infamous "Bat Cave," our team can help you create the right look and vibe for your private oasis.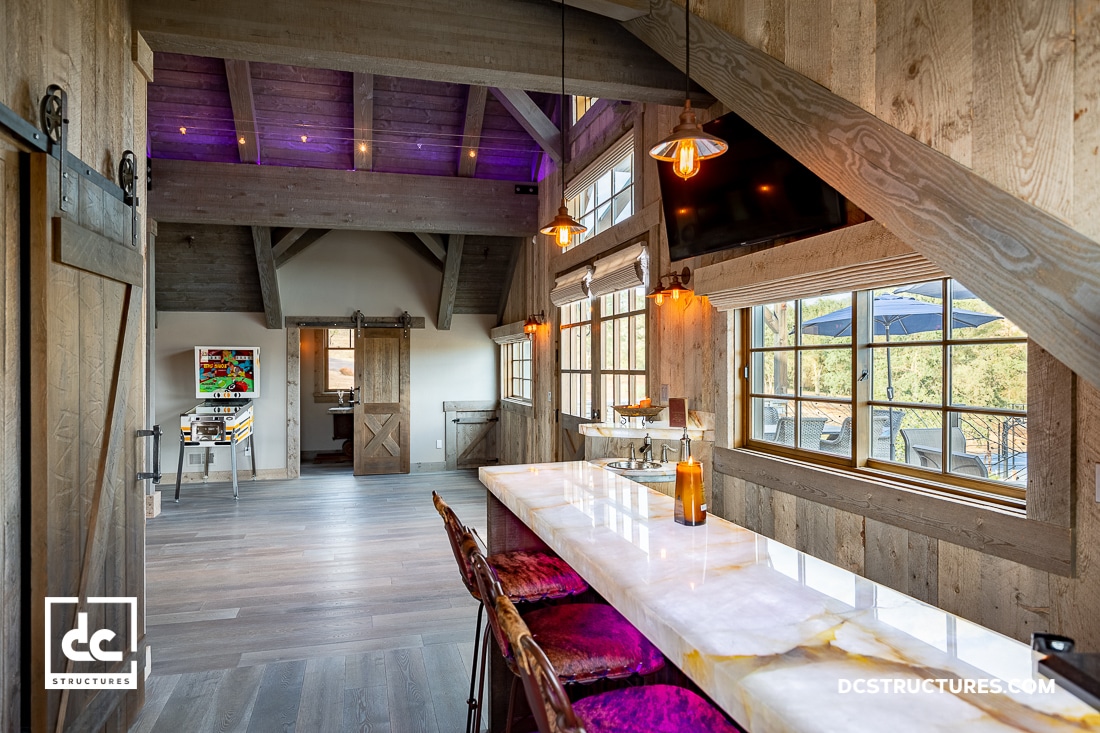 Business/Office Space
Our barn kits aren't exclusive to residential uses — you can also transform your kit into a commercial building centered around your business needs. We've crafted numerous commercial office spaces for clients in various industries and will collaborate with you to find the right floor plan, features, and size for your individualized workspace.  
Horse Barn 
If you're seeking a beautiful home for your horses, look no further than our line of pre-engineered barn kits! We offer dozens of open-ended barn designs that you can modify and personalize according to your equestrian needs. With hundreds of premium options and upgrades to choose from for your horse barn, you can create a high-end equestrian facility that perfectly suits your lifestyle and those of your horses. Explore our gallery of horse barn projects to see what you can do with your barn kit! 
Indoor Sports Court
Whether you do or don't consider yourself a sports fanatic, you have to admit that owning a private basketball court sounds pretty cool. With a custom recreational space in your backyard, you can work out, practice your skills, or play 2-on-2 with friends any time or day of the week. 
Artist Studio 
This option applies to all creatives, from painters and musicians to photographers and ceramicists. Our barn kits offer the ideal setting for those looking for a secluded space where they can be as loud, messy, or downright genius as they need to be.  
Mother-in-Law Suite 
Sharing space with anyone outside your immediate household can be challenging, especially if you're not used to having a packed house for the holidays. With a mother-in-law suite or backyard ADU, you can offer your friends and family the privacy of a separate guest bedroom while freely enjoying your house after a night (or multiple nights) of entertaining. 
Collector's Gallery
You have an impressive collection that deserves its own showroom, and we have a line of barn kits that will make your memorabilia shine. With the help of our talented designers, you can create a barn-style structure that brings your collection together in one magnificent space.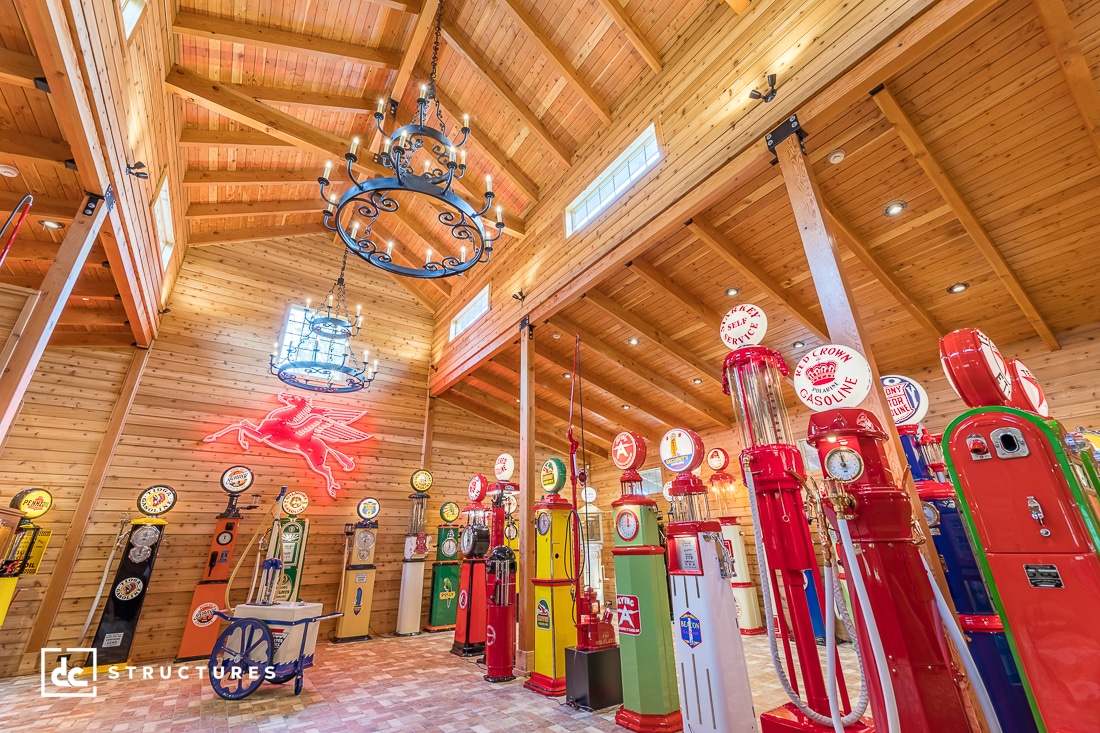 A Harry Potter-Themed Bar 
This last suggestion is partially a joke, but mostly Sirius. We would love to help you design a Harry Potter-themed bar — or any movie-themed bar, for that matter — on your property. While a barn might not be the most authentic portrayal of Harry Potter architecture, we can work with just about any vision you have for the space and help you transform your kit into a magical space that any muggle would adore. 
Ready to get started on your barn project? Call us at (888) 975-2057 or request a catalog today!