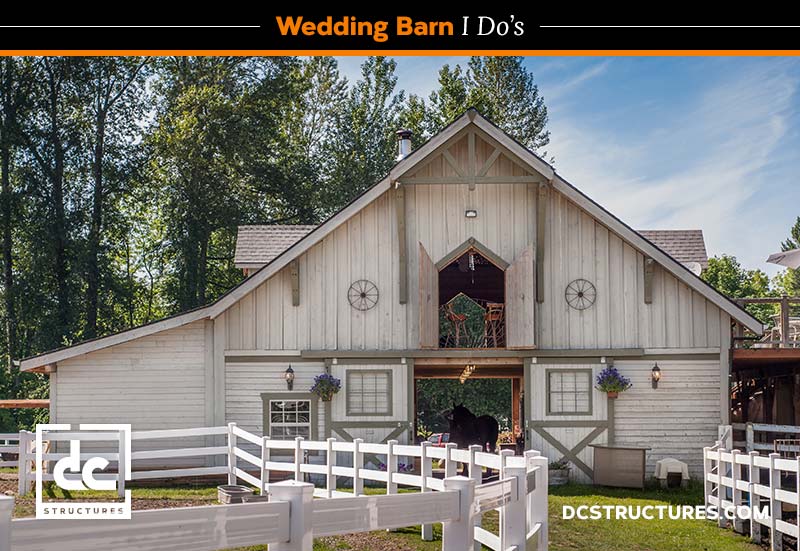 Church weddings aren't for everyone, but a wedding barn ceremony could be! Imagine a rustic barn on a hill, with fabric, flowers and lights draped over exposed wood beams made from the Pacific Northwest's finest timbers. You can smell fresh cedar in the air, and hear the buzzing sounds of nature just outside. For many people, this is church; and for some, it's even better.
Wedding barn ceremonies like this have been trending upwards in recent years, but the atmosphere they provide is timeless. Whether you're looking for a barn in which to say "I do," or for the crown jewel of your up and coming wedding and event business, DC Structures has flexible wedding barn designs that can work for you.
Wedding Barn 'I dos': Make Vows in Style
Summer weddings have always been popular, which means finding a venue during those warmer months can be difficult to do. That's without the stress of securing an event space that fits the wedding party's desired aesthetic. Few spaces can offer the ability to customize a ceremony in the way that a wedding barn does.
Far more permanent than a simple pop-up tent, wedding barns are dependable spaces that can be utilized for a number of special occasions. Wedding barns impart an elegant balance of tradition, fun and creativity to anyone's special day, all in a memorable setting that is sure to dazzle. Barn wedding ceremonies can be as casual or classy as the bride and groom choose, with modern amenities that make logistical planning a piece of wedding cake.  
A tasteful space with bucolic flair, barn-style wedding and event spaces offer a great business opportunity for entrepreneurs and landowners alike. Designed in our signature post-and-beam style, a wedding barn from DC Structures is a long-term investment that will give the gift of wedding day memories for a hundred years or more.
Thinking about a wedding barn for your scenic property? Request a digital catalog to get started today!