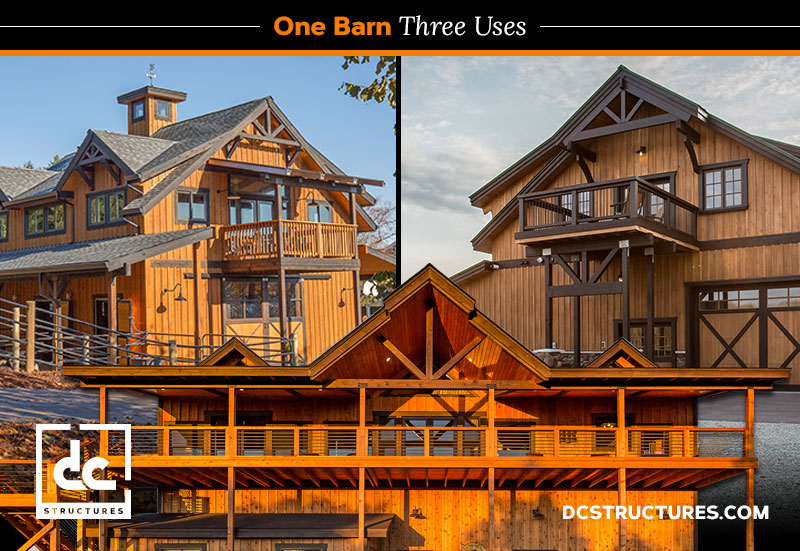 DC Structures designs apartment barns for the dedicated hobbyists; the people who put as much energy into their passions as they do their livelihoods. Much like our clientele, we prefer an original approach. Our innovative line of post-and-beam barn kits offers flexible utility to meet our customers' unique lifestyle needs.
The Oakridge apartment barn is our best-selling kit, as it is easily our most versatile design. Making efficient use of one structure for two purposes, the Oakridge brings our clients closer to their favorite personal pursuits. Whether you're looking for an apartment barn to call home for you and your horses or a workshop with upstairs living quarters to hone your craft at all hours, the Oakridge can work for you.
The Swiss Army Knife of Apartment Barns
Below are three different ways the Oakridge apartment barn kit has been repurposed by our creative clients. We've seen the Oakridge evolve into a garage with sweeping upstairs living quarters, an energy-efficient apartment barn, and a hunting cabin with equipment storage and workspace. Of course, we know that's just the tip of the iceberg for this functional structure's potential.
Bend
This massive garage with elegant upstairs living quarters was adapted from an Oakridge 60'. With ample storage and workspace on the ground floor, this beautiful Central Oregon barn home is as functional as it is attractive. On the top floor, a sweeping open-concept kitchen, living and dining area is complemented by a large 600 sq. ft. covered deck.
[cme_grid post_id="5613″]
Cornelius
This efficient apartment barn was modified from the Oakridge 36' kit design. Featuring a host of sustainable upgrades, this hybrid home houses two horses and two dogs. Skylights optimize natural lighting while a solar panel lessens energy dependence. The addition of an electric car charging station minimizes the burning of fossil fuels.
[cme_grid post_id="5700″]
Daggett
Designed from an Oakridge 60' apartment barn kit, this workshop with cabin quarters serves as home base during hunting season. The attractive and functional structure boasts plenty of storage for heavy outdoor equipment, as well as fun additions to the living areas like a gaming space and wet bar.
[cme_grid post_id="5889″]
Scheming about what you would do with your own Oakridge apartment barn kit? Request our digital catalog for more inspiration!