Most of us are familiar with the saying, "It takes a village to raise a child," but what about "It takes a village to raise a structure?" When you consider all the moving parts that go into designing and building a structure from the ground up, it's hard to imagine a construction project moving forward with even one key player missing from the picture.
At DC Structures, we understand the value of teamwork better than anyone, especially when it comes to collaborating with our clients' contractors and those within our Builder Network. Having been builders ourselves at one point, we know what it's like to be on the receiving end of the design and prefabrication process and have taken great care to ensure our approach and products center the needs of builders at every stage – even past the point of kit delivery.
From our custom design capabilities to our industry-leading Simple Build System and world-class builder support, our company offers several ways for builders to engage with our team, utilize our expertise, and streamline their processes to achieve the best results for their builds. If you're a contractor interested in working with DC, here are a few reasons to consider partnering with us for all your design, off-site manufacturing, engineering, and material procurement needs.
One-Stop Design Shop
Whether you're seeking custom design plans, structural design assistance, or a complete interior design solution, our team is here to help you with any design-related needs for your projects. Using state-of-the-art 3D design software, our experienced designers can take your ideas for a one-of-a-kind structure and transform them into a dynamic 3D model that you can explore and modify in real time. Within this same program, our team can also develop a structural model of your building and identify all connection points, placements, dimensions, and quantities for your framing components to ensure total accuracy and efficiency for construction.
For a complete look at our design capabilities, visit our Builder Network Offering page to learn more about our architectural design, structural design, interior design, and plan library services!
Premium Materials Supply
Headquartered in the Pacific Northwest, our team offers exclusive access to some of the most valuable timber exports in the world, including select-grade Douglas fir, Western red cedar, and coastal redwood. Our close mill-direct relationships allow us to source the finest heavy timbers in the region at competitive pricing, which we can then pass on to you and your clients. Because our team buys lumber in bulk, we also benefit from additional discounts on various wood products ranging from standard 4" x 4"s to cross-laminated timbers and beyond. With DC sourcing your lumber for you, you can create incredibly beautiful and durable buildings that your clients will love and that work within your budget.
Nationwide Engineering
Our engineering partner – licensed in all 50 states – is available to review your design plans anytime you need them for a project. Whether you designed your structure through us or need engineering help with existing design plans, our engineering partner can step in to ensure your plans comply by local and regional building codes.
Simple Build System
Our Simple Build System is designed to make your installation process faster, better, and more accurate than ever before! Using our CNC precision woodcutting machine, our team will turn your design plans into precisely pre-cut, pre-drilled, and individually labeled pieces of framing lumber, which we will then bundle together in wall sections and ship directly to your job site. By prefabricating your framing components prior to construction, we can guarantee a smooth, time-saving construction process that results in:
30% to 50% fewer framing hours than conventionally built structures
Considerable time and money savings for you and your clients
A far less labor-intensive framing process
And reduced noise, dust, and pollution on the job site
Learn more about the benefits of our Simple Build System by watching our Best Practices: Simple Build System video here!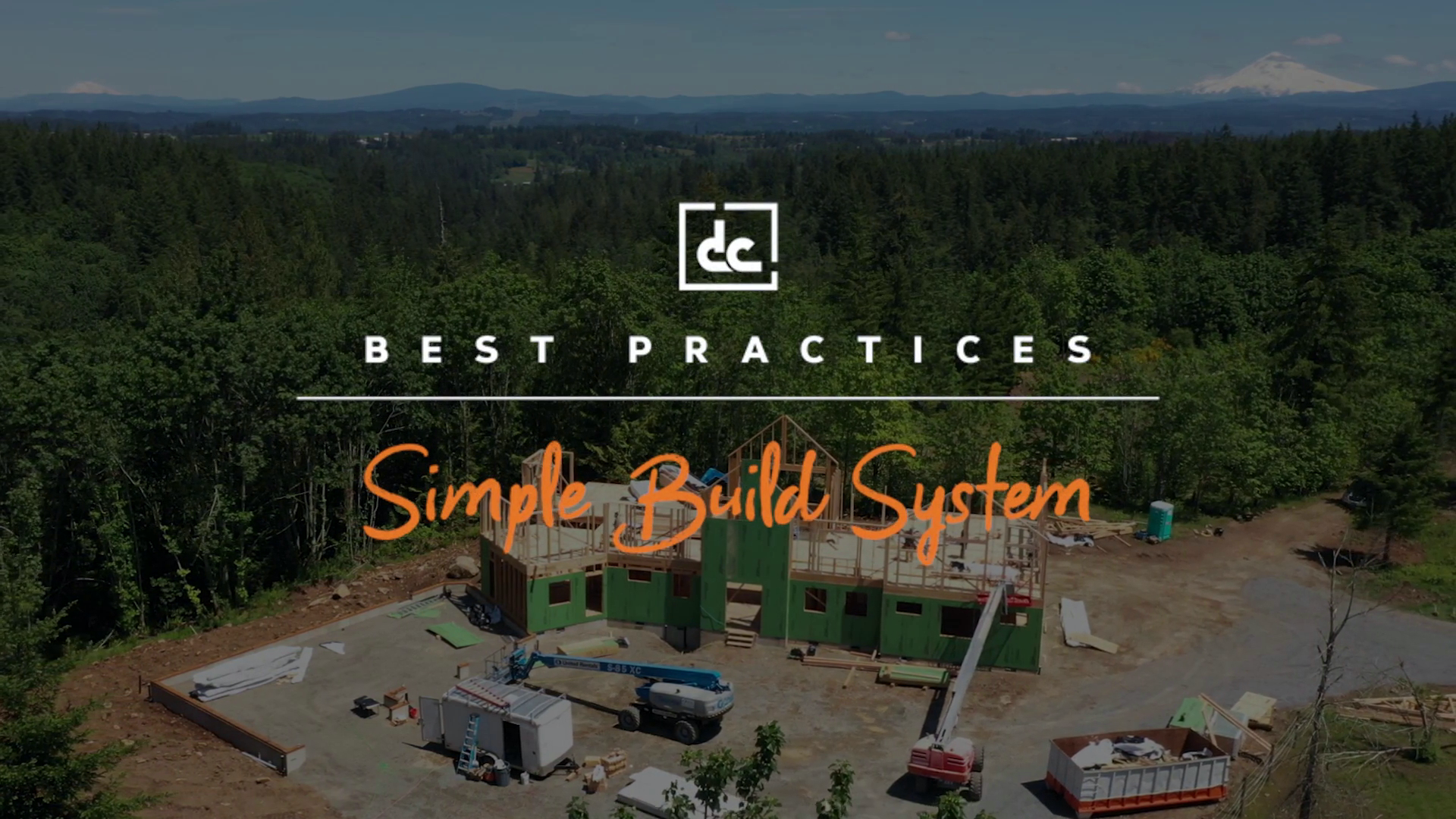 On-Call Builder Support
Just as we would never want to leave clients in the dark on their project details, we would never want to leave builders with unanswered questions or concerns during construction. That's why we offer on-call builder support that allows you to speak with an experienced team member whenever you need guidance in the field. We also offer a library of instructional videos for visual assistance and a helpful 3D CAD viewer that you can use to view, zoom in, and explore your 3D structural model while on-site. From the time your pre-engineered building kit is delivered to move-in day, you can count on our team to be there for you every step of the way.
Referrals, Referrals, Referrals
Finally, working with a reputable company like DC Structures also means having the opportunity to work with dozens of amazing clients across the country. We get hundreds of calls each month from prospective clients all over the nation, from California to Texas to New York, and would love the chance to pair them with an experienced builder, like you, in their area.
Want to learn more about how our approach benefits builders? Give us a call today at (888) 975-2057 or email us at [email protected] to speak with our builder network representative.