There's a lot to look forward to with the future of heavy timber construction — and the design and construction industry as a whole, for that matter. As sustainability becomes more of a priority than a luxury for new building developments, companies like ours are leaning hard into the possibilities provided by green materials like cross-laminated timbers and structural insulated panels (or SIPs); and investing in state-of-the-art technologies that allow us to provide faster, more complete solutions that benefit our clients and the planet.
One of the ways we're pushing the industry forward is by creating more hybrid structures that feature a combination of heavy timber and conventional framing methods, and that includes our new line of modern home kits. By combining our heavy timbers with other building materials, we can highlight the natural beauty and sustainability of your space while cutting costs in less important areas of your home. Moreover, our modern home kits present the perfect opportunity to create a stunning residence that embodies the sleek, minimalistic style of the future while utilizing eco-friendly materials and designs that prioritize energy efficiency.
If you're interested in designing a beautiful and naturally sustainable home for your property, keep reading below to learn more about our new modern home kits and the various ways we can customize your investment!
The Skyline Modern Home Kit
The Skyline is a striking modern home defined by its use of clean lines and mixed siding materials. We designed this home with a combination of select-grade Douglas fir timbers and parallel chord roof trusses to create an expansive interior that accentuates our premium heavy timbers while providing our clients with total creative freedom inside their space. Our sample floor plan includes three bedrooms, three-and-a-half bathrooms, a two-car garage, and plenty of flexible, recreational space, though you can easily reconfigure this layout to meet your needs. With a modern home kit like the Skyline, the sky is truly the limit to what you can do with your building investment!
The Trillium Modern Home Kit
Our Trillium Modern Home Kit offers the best of both worlds in terms of style and function. With its massive window walls, exposed rafters, and sloped rooflines, this modern home design offers optimal natural light and energy efficiency inside a remarkably beautiful setting. It also provides an abundance of flexible space that you can customize according to your needs and preferences. This floor plan features 3,540 square feet of conditioned living space, including four bedrooms, four bathrooms, a two-car garage, a spacious bonus room, and a magnificent outdoor living space. If you're seeking an impressive modern home that seamlessly blends our signature heavy timber style with contemporary architecture, our Trillium is the perfect fit for you.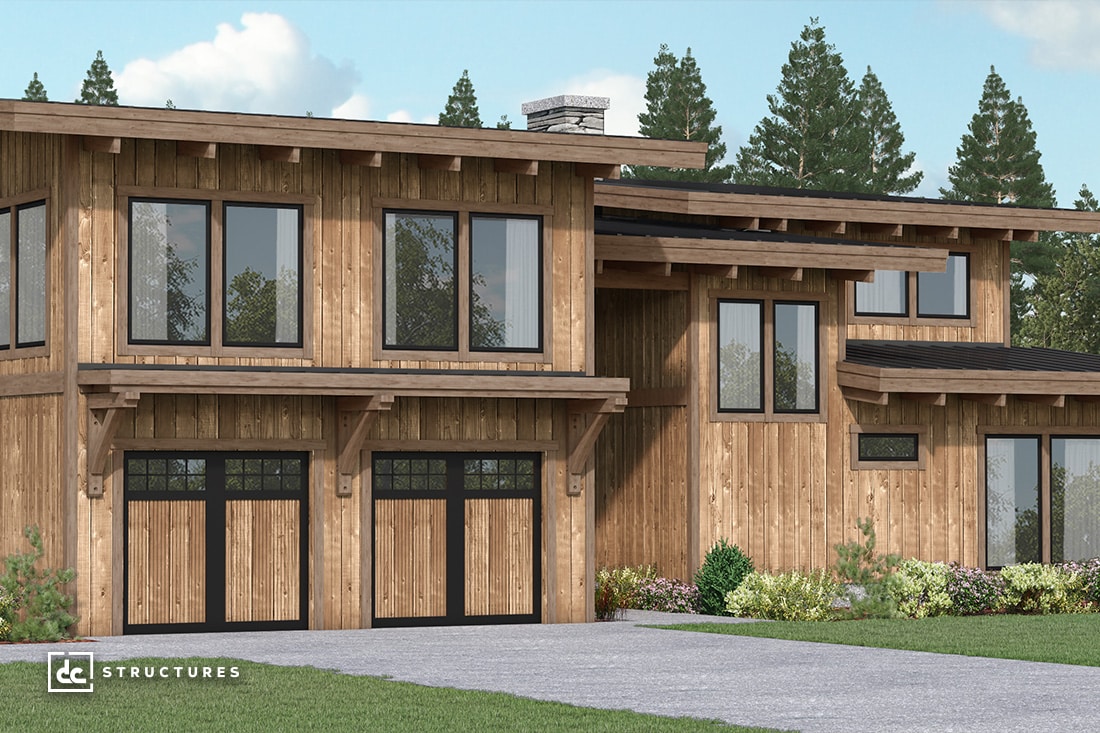 The Timberline Modern Home Kit
Inspired by our popular Cornelius Contemporary Custom Home project, this modern home is a magazine-worthy residential design that offers dozens of possibilities for your space. Floor-to-ceiling windows, oversized heavy timbers, and sloped rooflines take center stage in this structure, making it a stunning modern oasis that's guaranteed to increase the value of your property. This modern home comes with three bedrooms, three-and-a-half bathrooms, an open-concept living space, an office, a TV room, and a garage – all of which you can tailor to your desired layout. Although this design is naturally suited to scenic or cliffside properties, our designers can help you modify your Timberline to match your unique site characteristics.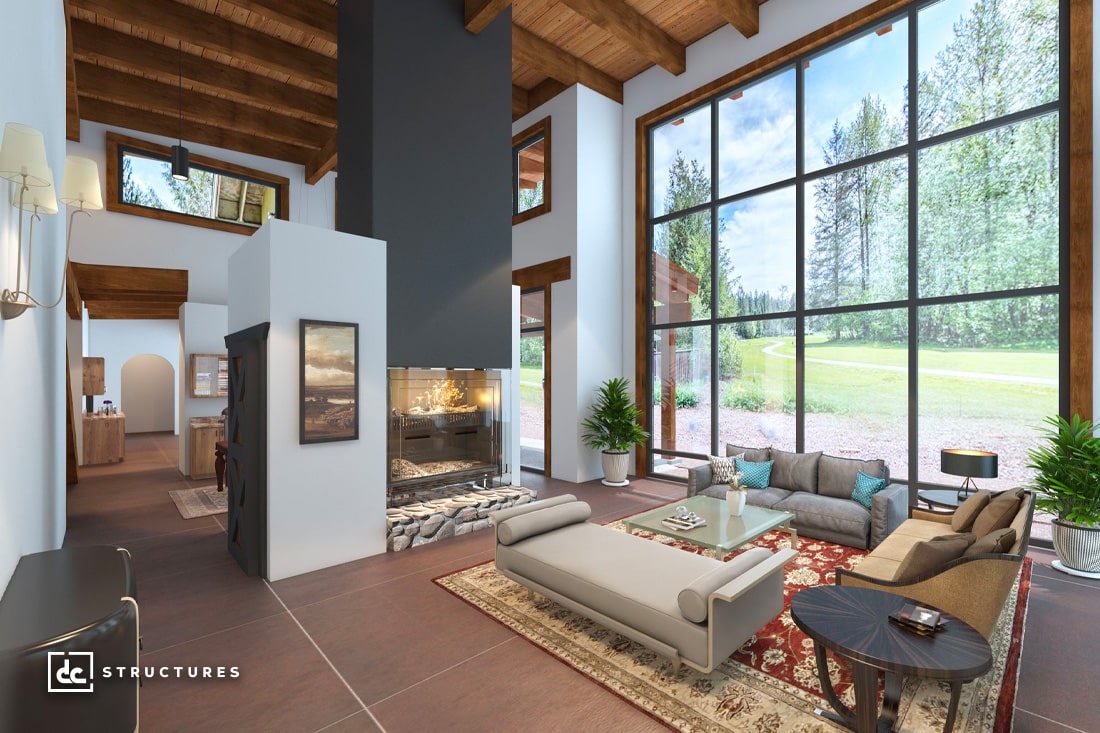 Ready to get started on your modern home project? Give us a call today at (888) 975-2057 or request a quote online here!